Hansen Medical: Valuation Thoughts
July 8, 2011 by William P. Meyers
I wrote on February 9, 2011: "Hansen Medical (HNSN) may be about to reach an inflection point. In fact, given the recent announcement of Philips paying $30 million to license just one part of Hansen's technology, we may be past the inflection point."
Last week "Piper Jaffray upgraded its stock-investment rating on Hansen Medical Inc. to overweight from neutral, saying its endovascular robot–pending 510k clearance–provides needed clinical solutions and will find a receptive audience in vascular surgeons." [Wall Street Journal blog, June 30, 2011]
It is difficult to put an exact value on Hansen stock. Today Hansen closed at $4.59 per share, giving the company a market capitalization of $250.4 million. On February 9 it closed at $2.07. You could buy it for $1.26 per share in early December 2010. Has it run up too much since December? Have there been new developments that justify today's price? Do future developments mean it could keep booming?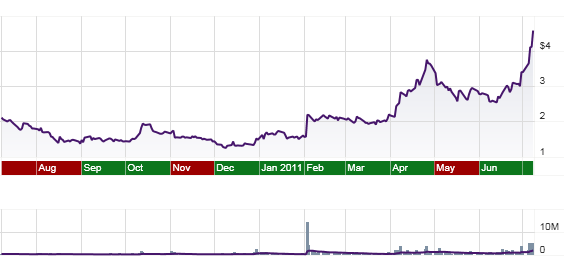 I believe the current price does not yet take into account information that has been available for several months now. It only reflects that Piper Jaffray called the undiscovered value of the company to a broader array of investors.
Hansen Medical has a technology platform. Repeat: technology platform. Its Sensei systems allow surgeons to control robotic catheters. There are a lot of kinds of surgery these could be used for, but each type of surgery requires some specialization of the catheter or its control system, as well as clinical trials proving safety and effectiveness, and FDA approval (EMA approval in Europe, etc.).
Hansen has been selling it Sensei systems with Artisan catheters to perform electrophysiology, the measurement of the nerve activity of the heart. The systems have been selling at a rate of a few per quarter, and cost more to make at that level of production than they sell for. They have shipped at least 100 systems to date. In addition, money raised from investors is spent on R&D for new applications, and of course on overhead. So Hansen has been losing money.
Now Hansen has received a large payment from Philips for one of its technologies: $23 million so far, with more to come. This should mean that the new and upcoming applications can be paid from existing cash and cash flow. In addition to electrophysiology, Hansen has permission in Europe to sell it Lynx ablation catheter. That allows surgeons to destroy nerve tissue to cure atrial fibrillation. It is a fair guess that FDA approval for U.S. use will come some time this year.
The first really big application is coming up to: vascular surgery catheters. Ultimately there will be a range of these, but the first approvals in Europe and the U.S. should come this year.
After that, anything goes. Hansen should be able to apply it robotic catheters to a wide variety of surgeries. There could end up being several in every hospital in the world.
Of course the usual risks apply. Hansen could screw up. Or a competitor could emerge. Or the FDA could delay approvals for longer than expected. Or patients could die or be injured if the system fails in unseen ways. In other words, this is not a sure thing. Keep diversified.
I still think Hansen should be worth over $10 a share based on present information, and upon approval of the vascular robotic system by either the FDA or EMA, should head up from there.
I have owned Hansen stock since July of 2009, after starting posting Hansen analyst call summaries in February of 2009. I may be excited today and may not be seeing all sources of risks. Despite a relatively small investment in Hansen Medical it has shot up so much it may violate my portfolio rules (caps on % of portfolio in a single stock) so I may sell portions of my current stake if the price keeps running up.
See also:
Hansen Medical main page
my other Hansen Medical articles and conference summaries